The Pembrokeshire Health and Wellbeing project helps the people of Pembrokeshire to feel better by offering friendly interactions in hospitals, care homes and other organisations.
How interacting with a man's best friend can improve your health and wellbeing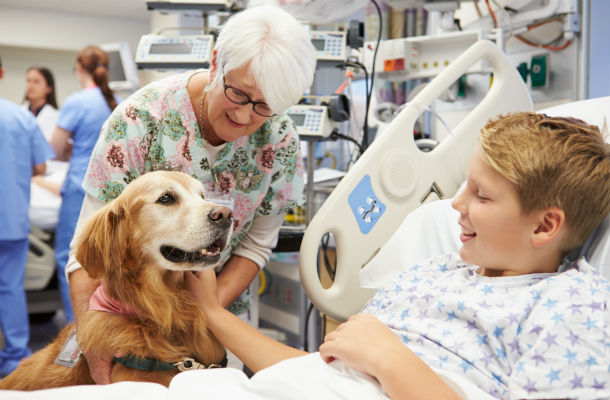 Therapeutic interventions of this kind typically take the form of 'meet and greet' sessions on either a 1-2-1 basis or as a group engagement activity.
Our canine companion visits can:
improve the mood of those being visited
encourage socialisation
encourage exercise.
For some, simply looking at a dog will be enough to bring about a smile and this may be all that is needed. It is widely acknowledged that the human-animal bond promotes social, psychological and physical wellbeing and we are proud to offer a service of this kind to the local community.
A Busy Year
In our first year Pembrokeshire Health and Wellbeing Project have:
concentrated on appointing volunteer directors
secured grant funding from the Caring Communities Innovation Grant
recruited our first volunteer team (dog and handler)
begun preparing for the roll out of future companion visits
offered training with the Institute of Modern Dog Trainers (IMDT)
given a talk about our dogs service to Business and Health and Social Care students at Pembrokeshire college to support their learning
About the beneficiaries
Ward 12 at Withybush General Hospital in Hywel Dda Health Board is a frailty and dementia ward caring for patients aged 60 – 100+. Some of the patients live alone and some have friends or family nearby.
Patients admitted to Ward 12 may be frail or have dementia. Stays on the ward may be extended whilst arrangements are made to return home or access other care services and, as such, befriending services can help improve quality of life.
What did our project do to make a difference?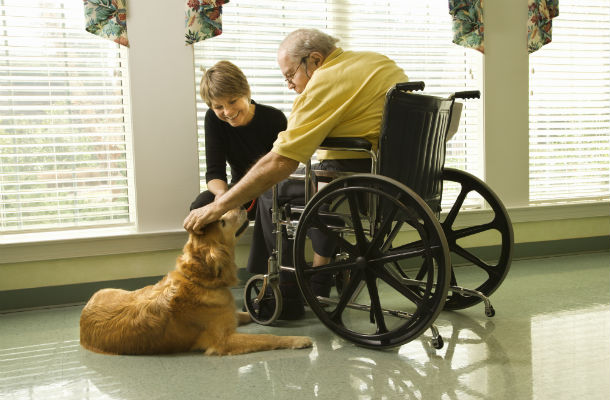 A volunteer team comprising an adult volunteer and their pet dog visited Ward 12 to interact with patients. David and German Shepherd Chika visited a group of 5 patients in Ward 12's Reminisence Room and took time to engage with each patient on a 1-2-1 basis.
Ward 12 is a busy ward and, as such, a therapeutic intervention in the calm environment of the Ward's Reminisence Room can be hugely beneficial for the patients.
What outcomes were achieved?
This was a special visit with the intention being to spread some cheer amongst Ward 12 patients. It should be noted, however, that the staff also clearly enjoyed the canine companion visit with Chika brightening their day too. The introduction of a friendly and well-behaved dog, whose presence can have a calming influence, was enjoyed by the patients. The often familiar and therapeutic feeling of stroking a dog can make a great difference to an individual's wellbeing.
The staff at Ward 12 advised that the patients said they enjoyed seeing the dog. Ward 12 rated the service overall as excellent and stated the visit was a "wonderful visit" and also expressed their interest in receiving further visits.
To keep in touch sign up to email updates from this blog, or follow us on Twitter.