In August 2014 a small group of ex-Speedwatch volunteers found themselves – and the villages they served – with no area coordinator for their local Speedwatch scheme. Rather than abandon parishes to their fate and waste their 2000 kerbside sessions and 4 years of experience, they formed Community Roadwatch (CRW) to lawfully address most of the community road safety aspects.
A Potted Pre-Incorporation History
We also provide regular, quantitative feedback to parishes on the levels of speeding for the parishes to process and refer onwards as appropriate.
Our full mission statement is on our website at www.roadwatch.org.uk
As suspected, the level and volume of the community speeding was at twice the level from data the volunteers had obtained from their previous hi-vis Speedwatch sessions.
Having observed the significant effect portable Speed Indicating Devices (SIDs) had had on slowing responsible drivers for the short time their SIDs were operated, the group sought to obtain their own SID for post mounting 24/7.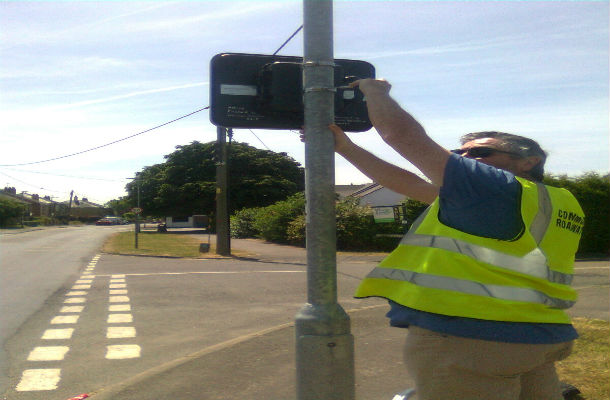 Unfortunately, the group's first application to the Big Lottery in 2015 for a grant failed. As a group, they did not have the corporate or financial structure demanded for such applications. So the group set out to satisfy these requirements.
Company Formation as a CIC
Subsequently, in March 2016 the group was successful in being accepted as a not-for-profit CIC that ticked all the 'boxes' for national as well as local grants. Thus the 5 founder members of CRW became unpaid directors of the new Community Roadwatch(UK) CIC.
CRW(UK) CIC's primary purpose is to dedicate its status as a company and volunteers time in the ethical and lawful procurement and use of 21st Century technology (Bluetooth SIDs & Loggers) to fulfil the needs of communities, parishes and resident groups. We educate drivers and moderate speeding with the use of SIDs but also obtain accurate, irrefutable, empirical volume-speed data to enable them to:
justify applying for grants for community traffic calming measures
demonstrate to the Police that speed enforcement is needed thus minimising use of scarce police resources.
assist any Speedwatch Teams to determine best operating Times of day.
validate the effectiveness of any installed traffic-calming measures.
First and Subsequent Grants
The company was successful in 2016 for its first application to the Big Lottery for funding for a SID. Such was the success of that application that the Directors were successful in obtaining further grants/funding for even more projects such as:
2016

£5000 for a fixed SID in Colne, Cambs from Mick George personally, a generous local haulier.
£3000 for a mobile SID from Mick George Ltd
2017

£10,000 from Ramsey Windfarm Community Fund married with £10000 from County funds to install a complete traffic calming scheme in Ramsey Forty Foot.
£3000 for an Armadillo Logger and £1500 for a Wheelie Bin Sticker Campaign from Mick George Ltd
2018

£3000 from Ramsey Windfarm Community Fund for a 2nd Armadillo Data Logger
£3000 from The Warboys Red Tile Windfarm Community Fund for a 3rd SID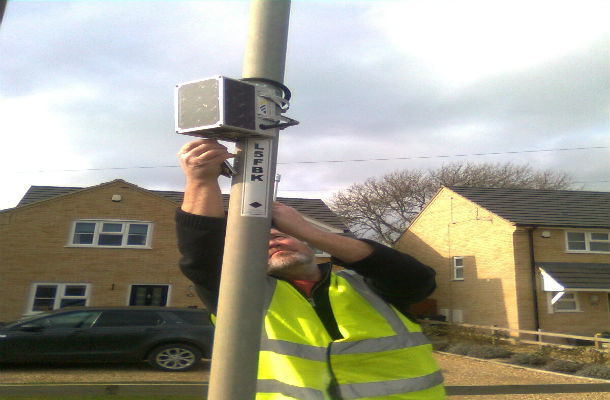 SID Pathfinders
From its early 'pathfinder' initiative of using SIDs to effectively moderate traffic speeds, and proving that they reduce speeding by 10% on average, CRW has encouraged the prolific use of SIDs such that County Councils now provide them to Parishes on application for grants.
CRW's technical, Bluetooth and physical SID experience is being called upon by several SID parishes for battery changes, data downloads and moves and to eventually train local SID Support Teams to become autonomous.
Demands for Data
The 2 discrete Houston Radar Armadillo data loggers obtained by CRW are in constant use.
Parishes find they need accurate bi-directional 24/7 volume-speed data either to justify applications, or requests for enforcement or to oppose large developments that in the past have had no one to challenge or corroborate similar data quoted in their planning applications.
Funding
All the Company's services are provided by unpaid volunteers free of any charge for their time and effort. However, appreciative parish councils help to offset the Directors' out-of-pocket travel expenses by donating £50 or £100 every so often (depending on degree of support provided). Any funds left over at the end of the financial year are gifted to parish community road safety projects. In 2018/19 it is gifting £5000:
for a Traffic Regulation Order to reduce a community speed limit from 60 mph to 40 mph
to place 'Pedestrian in Road' warning signs ahead of dangerous bends around which school children cross.
To keep in touch, sign up to email updates from this blog, or follow us on Twitter.