Appoint Us Services is a Community Interest Company working closely with the local community to provide a wide range of person-centred services. All their services are individually tailored, and they pride themselves in being a unique organisation.
Julie Earls and her team are still providing support services to vulnerable people and make sure that they have fair representation and access to benefits and services. It also gives back to the community in the form of making a difference to their lives in creative ways.
Our Services
Julie says, if someone you know is socially isolated, lonely or needing a sitting service? We can provide regular or one-off visits.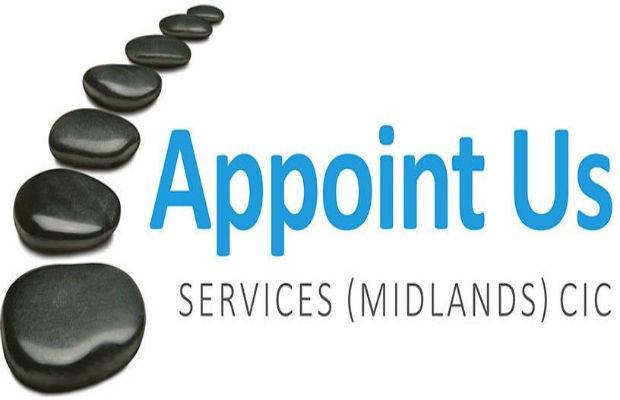 Appoint Us staff come and:
sit with a loved one or relative to enable the carer to take a break either for an hour a day or longer
pop in to do a well-being check to reassure families away on holiday or busy at work
spend time with someone who is otherwise home alone
If someone you know needs help getting out and about but wants to keep a bit of independence, we can take them to:
GP or Hospital appointments
visit friends or relatives
the cinema, theatre, concerts
shopping
and much more
We do our best to help them get to where they need to go.
We help people in transition to become more independent, providing training and support in daily living skills. This service is often useful for people leaving residential settings or foster care to become independent and is individually tailored to meet customer needs and could involve other tasks, services or agencies.
Some of the things we do to help:
plan a simple weekly menu, prepare the shopping list and shop for ingredients
teach household chores such as dusting, polishing, cleaning, vacuuming, washing and ironing
prepare a budget and teach budgeting skills
open and manage a bank account
show how to access local transport
help to find and access local services
teach you how to keep safe
A community effort and a happy ending
A long time ago we supported a couple with a learning disability through some difficult times. I was honoured when I was asked to be a witness at their wedding. The young lady in question asked if I could bring someone else as a witness as they had no one else who could do it for them. I suggested I could bring a work colleague. Excitedly I asked her about what she was wearing as I knew she had dreamed of a big white wedding. She said she had some leggings and a top as she had no money and no one who could help her choose a dress. Straight away the Appoint Us Team said she had to have a dress....this soon escalated and by Friday the team had pulled a whole wedding together for them.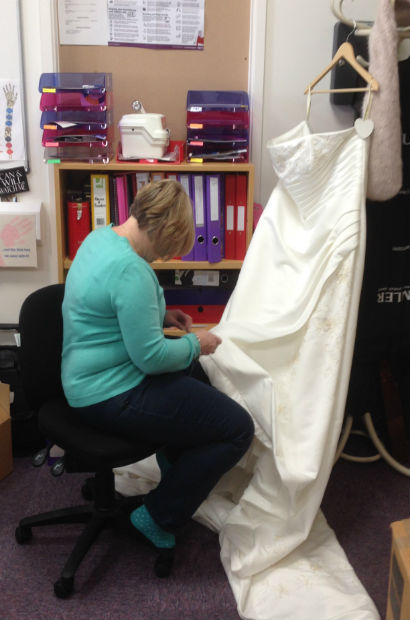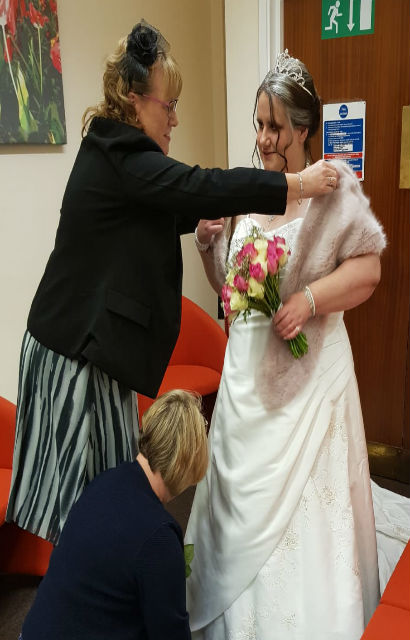 One post on our Facebook page led to:
someone offering to make and donate a wedding cake
sourcing the grooms' suit, shoes and a tie
a hair salon volunteering her services for bridal hair
a mobile nail technician offering to do the nails
a local lady gardening company providing the flowers
local printers doing a wedding canvas and helping with a wedding album
someone providing the funds, hotel accommodation and goodies for the night
an anonymous business contributing a cash donation which funded a wedding breakfast
a lady who had been to a white tie and tiara ball donated her tiara
a lady donated the wedding dress which we couriered from up North, and
others donating small gifts for the couple to open on the day
The remaining tasks, purchases and pulling it all together was down to the team at Appoint Us Services, led by Sharon:
Emma transformed the bride's white pumps in to something amazing and
made the corsages and bouquet,
we bought wedding rings, brides jewellery, underwear, something blue honeymoon treats etc.
Lauren and Sharon did the initial dress fitting and dress rehearsal.
The big day arrived, and the sun was shining, Emma, Andrea and Sharon got the bride ready whilst I supported the nervous groom. Their former Social Worker turned up and gave the smiling bride away and did the readings, along with another professional who came as a guest on her days annual leave, the registrar was amazing and the ceremony emotional and moving.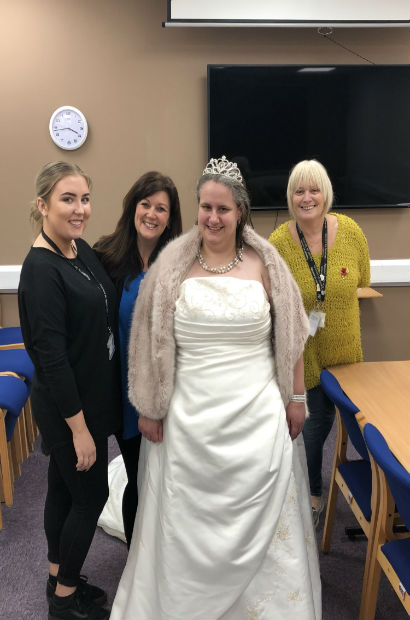 The Appoint Us car was converted in to a wedding car and transported the happy couple to the reception and to the hotel afterwards.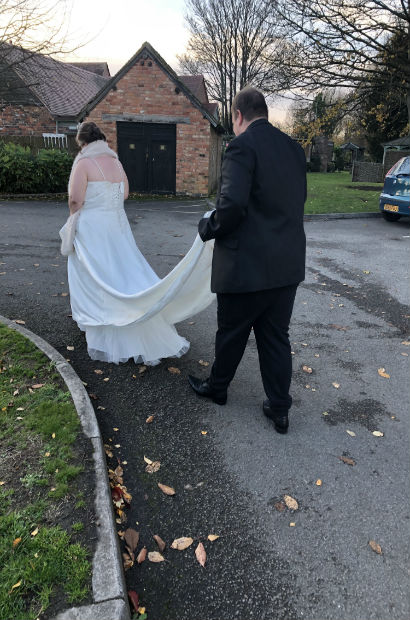 The whole day was absolutely amazing and memorable. The bride and groom were thrilled and overwhelmed and thanked us for making them "feel so special".
   
As a CIC all our staff and our customers are members of our company. Profits we make are committed to going back into helping the community. By purchasing a service from our company, you too are helping to give back to the local community and maybe make someone else's day special.
To keep in touch, sign up to email updates from this blog, or follow us on Twitter.