Yes that's right. I'm Rachel Oliver a Community Engagement Manager at Circus Starr CIC. And I'm going to tell you all about our achievements over the last 30 years.
We are set to celebrate 30 years of touring circus magic, fun, and laughter to some of the most vulnerable children in the UK. What a journey it has been. Circus Starr is the UK's only circus with a purpose; hosting free, inclusive, and relaxed circus performances to children who are often excluded from live arts events of this kind due to their needs or circumstances.
Circus Starr was the brainchild of the Gandey's Circus who staged a benefit circus show to raise much needed funds for a hospice caring for a friend of the family. From these small beginnings, Circus Starr now tours to 75 venues a year from Dundee to Saltash captivating youngsters facing all sorts of challenges in life with the thrills and spills of traditional, world class circus.
Come rain or shine, two recessions and recent negative press about charitable fundraising, Circus Starr has kept rolling; welcoming the hardest to reach children and their families under the starry canopy. We've received some incredible feedback, from parents and children alike, over the years.
Parents and carers value the accepting atmosphere created by the troupe and crew.
One mum commented:
Our family would like to thank you. My daughter, who has profound multiple, physical and learning disabilities, had an amazing time; ringside seats; arms flapping, wheelchair rocking in delight!
Families look forward to our annual visits and the benefits of our long standing relationship with our audience is summed up in this father's feedback:
The show you put on this year was out of this world…Thank you for being an important part in my son's life and development without even knowing it.
Circus Starr became a CIC in 2010
We owe our success to the businesses who support our donated ticket programme, many of whom re-pledge each year. In return, businesses relish the opportunity to do something good and different for vulnerable children living within their communities. Our tickets are always in high demand and distributed through a network of charities, schools, support groups, and other agencies.
One of our proudest moments of 2015
Was receiving the National Autistic Society's Award for Best New Technological Innovation for our mobile app, Show and Tell. The app was funded and supported by Nesta's Digital R & D Fund and designed to help children with autism prepare for a trip to see Circus Starr. Children with a disorder on the spectrum often find unknown situations daunting so the app allows them to preview acts and familiarise themselves with the Big Top ahead of show day.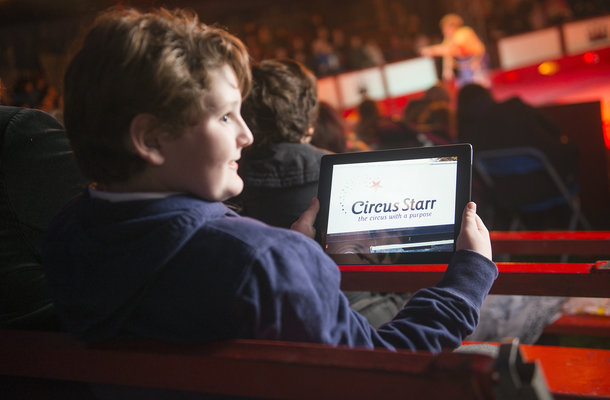 Show and Tell is a free to download from the App Store and is coming soon to Google Play. It's been really well received and has given families living with autism the confidence to explore other arts and cultural opportunities. We hope in the future to make the app available for re-purposing by other family attractions and events to create better access for the 2.8 million people whose lives are touch by autism living in the UK.
For now we're gearing up for the Spring Tour that kicks off on 23rd April with some amazing acts including, new for 2016, El Moussati troupe from Morocco with the Wheel of Death and breath-taking tumbling act. Internationally acclaimed Mexican Clown Chico Rico is back by popular demand along with aerial contortionist Romy Bauer and the death defying Serik Brothers on Chinese straps and pole.
Thanks for reading all about Circus Starr. We hope to see you soon at a show near you.
To keep in touch, sign up to email updates from this blog, or follow us on Twitter.