I'm Rosie Ginday, Founder of Miss Macaroon which became a CIC in  2011.
Miss Macaroon was born from my training as a high-end pastry chef at University College Birmingham and my work in Michelin starred restaurant Purnell's in Birmingham. I wanted to create a social enterprise business that combined my passion for premium quality food. But also wanted to provide opportunities for young people seeking a career and to build confidence in themselves. My ultimate aim was to help youngsters break into a highly competitive industry while providing moments of sublime indulgence for my customers. Who through buying our macaroons, are helping young people to achieve their lifetime goals.
At Miss Macaroon indulgence is also a virtue as our social enterprise activities are supported through every macaroon we sell. We only provide the very best, hand-crafted, premium macaroons for a sublime moment of indulgence to:
boutique hotels looking for an alternative to the pillow chocolate.
high-end establishments for re-sale purposes
small businesses seeking bespoke gifts for their customers
We also work with public relations and event management companies looking for a delicious addition to goodie bags or a specifically themed sweet treat for a special event, launch or wedding.
We provide employment and training programmes aimed at youngsters who may have:
slipped through the education system
are care leavers
or find themselves homeless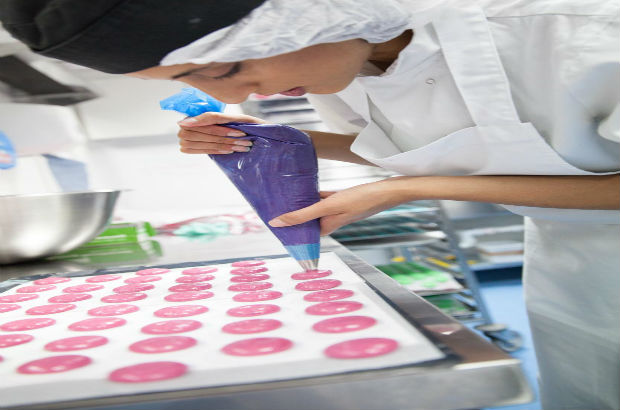 This adds an entirely new, unique flavour to our macaroons and one that can truly be savoured, enjoyed beyond the mere eating of the product itself. We're changing the world with one macaroon at a time!
One in five people in the UK eat a wheat-free diet and offer gluten-free macaroons from a gluten-free kitchen.
We also create premium gluten free macaroons for our customers from designer and fashion brands who truly recognise luxurious individual styling:
Karl Largerfeld
Juicy Couture
Adidas
Pandora
Ted Baker
To huge corporations where their instantly recognisable logo needs expertly recreating onto hand-crafted macaroons:
Ernst & Young
Orange
EE
ITV
Santander
Experian
Goldman Sachs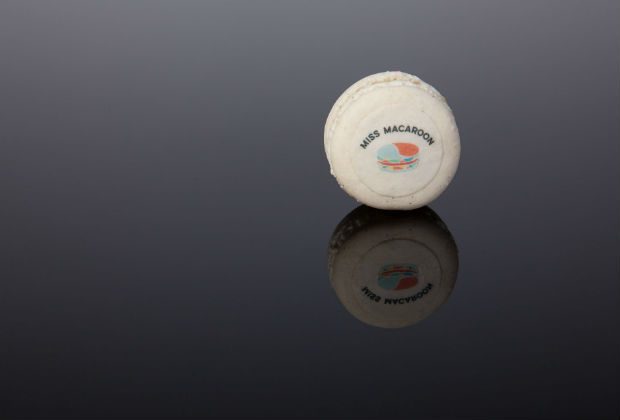 We employ six people, one of whom is a graduate of the Macaroons that Make a Difference training programme (MacsMAD). This programme helps unemployed young people to:
gain work skills
build their confidence
enter the highly competitive catering industry
Meet the newest pastry apprentice and beneficiary of MacsMAD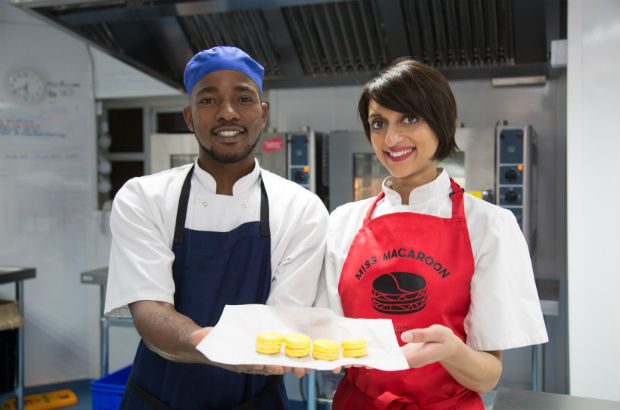 My name is Zee and I'm 25 years old. I'm a trainee pastry chef doing an apprenticeship at Miss Macaroon. I work in the kitchen and prepare macaroons.

When I was in a hostel last January I came across a flyer advertising the MacsMAD course which was an opportunity to learn new skills. I had been unemployed for four years so the course was about readjusting to a working environment and meeting new people. I was searching for a purpose and something to apply myself to. I met Rosie who helped me as mentor and gave me an introduction in to the catering industry. My confidence grew through the process. I stayed in touch with Rosie who encouraged me to get some work experience and after that I got offered a permanent position. It's been a good transition; I started off on one day, then three days now on full time. There hasn't been any pressure, I've gradually been allowed to fit in, its been easier than just going straight into full time. Which would have been a bit more pressure if I hadn't had the chance to develop the way I have.

Miss Macaroon has helped me to get a job in catering. It's helped with skills, confidence, direction, focus and determination. It's given me the opportunity to be part of something positive, constructive and learn the expectation of the skills required in a work place. Rosie is a good motivator. Setting goals is now part of the way I work which I didn't do before.
Thanks for reading all about us. Hope you've enjoyed reading our story as much as I did telling it.
To keep in touch, sign up to email updates from this blog, or follow us on Twitter.