The office is pleased to announce that the Regulator of Community Interest Companies (CIC) Annual Report 2016 to 2017 was laid in Parliament on Tuesday 18 July 2017.
It is a team effort, where we detail the work of the CIC Regulator from April 2016 to March 2017. We continue to work with Mark Sherlock, Graphic Designer at Companies House who uses his creative mind to design the report.
This year's report 
The theme of this year's report is focused on growth.  The CIC sector has grown phenomenally since 2005 and, whilst celebrating the unprecedented growth and success of CICs, we also review the challenges and opportunities in maintaining growth, productivity and longevity in the years to come.
Ceri Witchard, CIC Regulator said:
I am pleased to report another rewarding year of growth, building on the excellent work of my predecessor in ensuring CICs continue to be the social enterprise of choice in the vibrant and growing social enterprise sector.

Report content
This year's report includes:
a foreword from the CIC Regulator, Ceri Witchard
applications, growth, longevity and e-enablement
cost recovery for the Regulator's administrative functions
CIC case studies such as:

Goodwill Solutions, who in April were named in the Financial Times FT1000 list, as one of Europe's fastest growing businesses between 2012 and 2015
Mental Health First Aid England who have delivered courses to over 165,000 people and is recognised in 23 countries
Scotcash who provides cost-effective loans where a bank or building society cannot help. So far, they have saved citizens £5 million in interest payments had they taken the same loan with a doorstop lender
TeenTech who helps young people in to the science, technology and engineering industries. Each year they work with over 5,000 young people and indirectly with tens of thousands more

key statistics showing the growth of CICs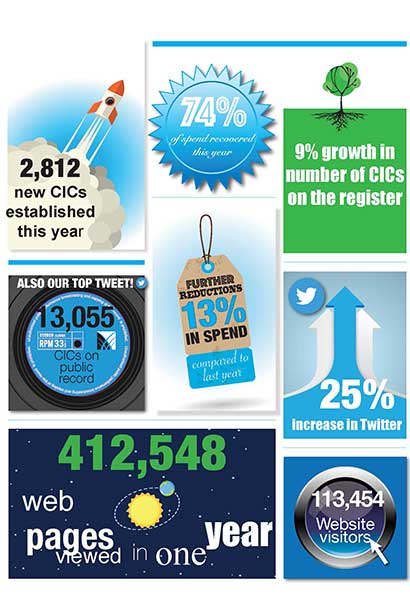 Along with the success stories from our CICs, we also have excellent contributions from:
Flynn Butterworth, Big Venture Challenge team at UnLtd
Simon Rowell, Senior Director at Big Society Capital
These are a few of the highlights and we hope you enjoy reading this year's report. 
To keep in touch, sign up to email updates from this blog, or follow us on Twitter.