Find out how you can help us to help the bees.
At the National Beekeeping Centre for Wales in Conwy, we firmly believe it is possible to make the world a better place for honey bees.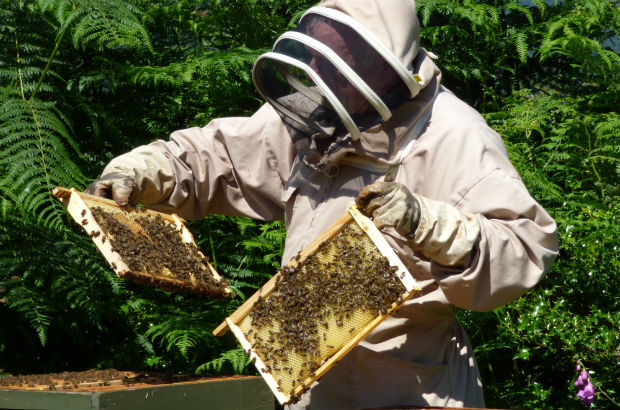 A Regal start
We set up as a CIC in 2010 and opened our Visitor Centre at Bodnant in the Conwy Valley in July 2012. The Prince of Wales and the Duchess of Cornwall made the formal opening and we've been active ever since.
What our Centre provides
Although we were very fortunate to receive grants to set the Centre up in the beginning and for the first couple of years of operating costs, we were clear we wanted to be completely self-supporting and viable financially. We got to that happy position in 2016/2017 and we remain in the black! Our income generating activities subsidise the things we do which can't pay for themselves, so it's a constant juggling act.
We derive part of our income from sales from our Visitor Centre, primarily:
artisan local honeys
bees wax based creams and balms
beekeeping books
cards and basic beekeeping equipment such as frames and foundation
varroa treatments and fondant.
We receive:
between 25,000 and 35,000 visitors each year
we tell the story of the honeybee and its importance to us as a pollinator
we have a nearby apiary and a live video stream to the Centre from the cameras focused on the hives
visitors can see what the bees are doing come rain or shine.
We are run by volunteers from the local community with one part time member of staff who manages the Visitor Centre and co-ordinates our volunteers.
It's an education
We run beekeeping courses for beginners and taster days for those just thinking about bees and possibly keeping them. We are fortunate to have the use of facilities at Bangor University's Henfaes Research Centre, ideal for teaching with an attached apiary. We've trained hundreds of new beekeepers over the years from all over Wales and beyond and we connect kids with ecology and the importance of honeybees.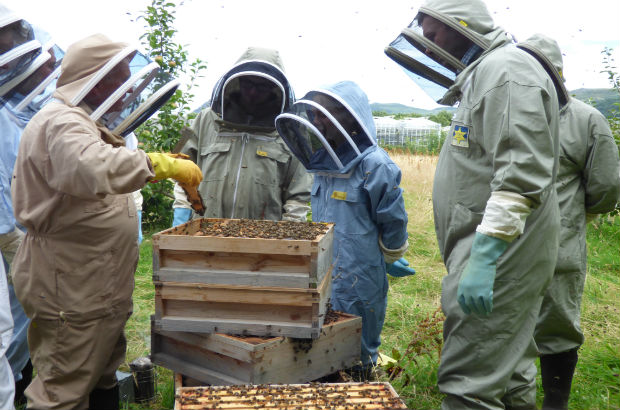 We give talks to many local groups such as:
U3A
Probus
WI
Deaf/Blind
Rotary
Luncheon Groups
Gardening Clubs
Soroptimists and many more
We frequently offer honey tasting as a sweetener! We give school visits, attend agricultural shows, attend fairs and events throughout North Wales. Our local Beekeeping Association is very supportive, and we often collaborate with events such as:
the Conwy Honey Fair
the Seed Fair
the Conwy Feast
We have had great fun working with local groups and organisations such as Communities First, community Garden Schemes, the National Trust at Bodnant Garden and with Asset Management companies managing buildings and gardens in bee-friendly ways.
We thought it was about beekeeping not bookkeeping!
We've found that running a CIC is not always plain sailing. We're a micro company with all the responsibilities of any other company. Book keeping, ordering, invoicing and bank accounts. Managing course bookings and 'customer care'. We have our tax returns – now faced with quarterly reporting, VAT returns every quarter, HR and pension auto-enrollments, the big impact of GDPR and just the usual admin., filing and systems / procedures. We hadn't really appreciated what was involved when we set up! We just thought it was all about bees and beekeeping! We're a lot wiser now.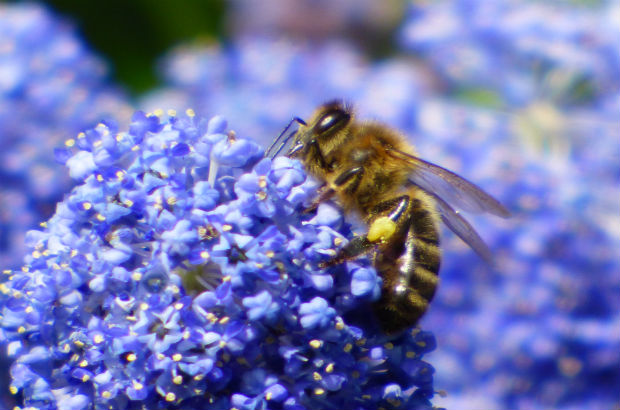 We're only a small group, but we hope we have a big impact and we aim to get bigger!
To keep in touch, sign up to email updates from this blog, or follow us on Twitter.