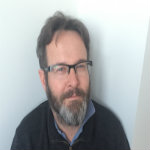 Alistair Young
Alistair Young formerly worked in the healthcare and publishing sectors, both in Spain and the UK promoting different products and causes. Subsequently, he became a 'full-time dad' taking care of two young daughters and dedicated some time pursuing his interest in music.
Reading through biographies of key British Musicians, it became clear that the streets of West London had once been a creative-hub for some of the most influential musicians ever to emerge from the UK. At the centre of West London's musical heart was The Borough of Ealing, a place that many feel deserves better recognition for both it's roots and contemporary cultural potential.
By reaching out to like-minded people through ventures such as The Ealing Club CIC, Alistair dedicates his time to help promote music heritage while helping create new initiatives and opportunities for the area's future.
The Ealing Club became a community interest company in December 2011.
Related content and links
Community Interest Companies
A blog on the work of the CIC Regulator. Contributors are CIC staff and invited guest bloggers with an interest in Community Interest Companies (CICs).