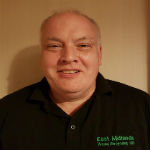 Kevin Ellis
Kevin has served in the Armed Forces, worked as a Prison Officer, holds a BA(hons) in Social Work and has a postgraduate diploma in Drug and Alcohol Treatment.
Kevin has acquired numerous skills in his career such as Coaching, Leadership Development, Operations Management, Public speaking to name a few. He uses these skills assisting others to take charge of their life and be the best they can be in respect of their career, relationships, health and personal growth.
Kevin is looking to expand the company activities to other areas of Derbyshire and Nottinghamshire to provide more volunteering and training opportunities.
East Midlands Wood Recycling CIC is a Social Enterprise that has been set up to reclaim, reuse and recycle wood.