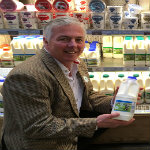 Neil Darwent
Neil Darwent has been milking dairy cows and managing farm businesses for over 30 years. During this time, he has witnessed at first-hand, the increasing pressure on farmers and their cows to deliver more for less and the growing disconnect between farmers and consumers. In seeking to establish recognition for the true value delivered by traditional, pasture-based dairy farms, he began to talk to fellow farmers about the concept of 'free range' milk back in 2011. In May 2014 Neil was awarded BBC Outstanding Farmer of the Year, in recognition for his efforts to build a brighter future for British dairy farmers and, in July 2014, his Free Range Dairy initiative was formally registered as a Community Interest Company, under the name of the Free Range Dairy Network CIC.
Offering consumers informed choices about the kind of farms their milk comes from.
Related content and links
Community Interest Companies
A blog on the work of the CIC Regulator. Contributors are CIC staff and invited guest bloggers with an interest in Community Interest Companies (CICs).