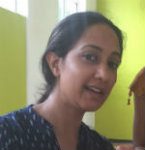 Vanessa Downie
Vanessa Downie, Khyal Arts' passionate project leader, is also a performer with a background in community dance; she is deeply interested in different applications of life-enhancing dance activity for the benefit of communities and regularly delivers dance sessions in schools and community settings.
Since taking the helm at Khyal Arts, Vanessa has nurtured and developed the organisation with her vast knowledge, experience and passion derived from undertaking a Master's degree at Goldsmiths, University of London, alongside a career journey spanning artist-facilitator to arts project management, with a number of organisations, including Royal Opera House.
Khyal Arts unites people through its understanding of other cultures.
Related content and links
Community Interest Companies
A blog on the work of the CIC Regulator. Contributors are CIC staff and invited guest bloggers with an interest in Community Interest Companies (CICs).